$34.99
AUD
Category: Reference
Georgia Richter and Deborah Hunn look at the business of becoming an author. In a friendly, informative and practical way they share all you need to know about inspiration and research, preparing to submit to a publisher, creating an author brand, legal, ethical and moral considerations, pitching and ef fective social media and much more. ...Show more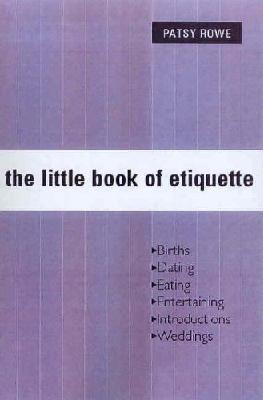 $12.95
AUD
Category: Language
Etiquette is correct and acceptable behaviour that makes social contact run smoothly. Sometimes we find ourselves in situations for which we aren't prepared and this book aims to set you on the right path so that you can still cope with any social situation with confidence. From sending and receiving in vitations and how to host a dinner party to wedding etiquette and how to address VIPs, you'll discover how to get by in any social situation. ...Show more
$14.99
AUD
Category: Language | Series: Phrasebook Ser.
Lonely Planet Japanese Phrasebook & Dictionaryis your handy passport to culturally enriching travels with the most relevant and useful Japanese phrases and vocabulary for all your travel needs. Get to know your sushi from your sake, enjoy an elaborate tea ceremony with its centuries'-old conventions , and find your way elaborate transit maps; all with your trusted travel companion. With language tools in your back pocket, you can truly get to the heart of wherever you go, so begin your journey now! Get More From Your Trip with Easy-to-Find Phrases for Every Travel Situation! Feel at easewith essential tips on culture, manners, idioms and multiple meanings Order with confidence,explain food allergies, and try new foods with the menu decoder Save timeand hassles with vital phrases at your fingertips Never get stuck for wordswith the 3500-word two-way, quick-reference dictionary Be preparedfor both common and emergency travel situations with practical phrases and terminology Meet friendswith conversation starter phrases Get your message across with easy-to-use pronunciation guides Inside Lonely Planet Japanese Phrasebook & Dictionary: Full-colourthroughout User-friendly layoutorganised by travel scenario categories Survival phrasesinside front cover for at-a-glance on-the-fly cues Covers Basics -time, dates, numbers, amounts, pronunciation, reading tips, grammar rules Practical -travel with kids, disabled travellers, sightseeing, business, banking, post office, internet, phones, repairs, bargaining, accommodations, directions, border crossing, transport Social -meeting people, interests, feelings, opinions, going out, romance, culture, activities, weather Safe Travel - emergencies, police, doctor, chemist, dentist, symptoms, conditions Food -ordering, at the market, at the bar, dishes, ingredients The Perfect Choice: Lonely Planet Japanese Phrasebook & Dictionary, a pocket-sized comprehensive language guide, provides on-the-go language assistance; great for language students and travellers looking to interact with locals and immerse themselves in local culture. About Lonely Planet: Since 1973, Lonely Planet has become the world's leading travel media company with guidebooks to every destination, an award-winning website, mobile and digital travel products, and a dedicated traveller community. Lonely Planet covers must-see spots but also enables curious travellers to get off beaten paths to understand more of the culture of the places in which they find themselves. ...Show more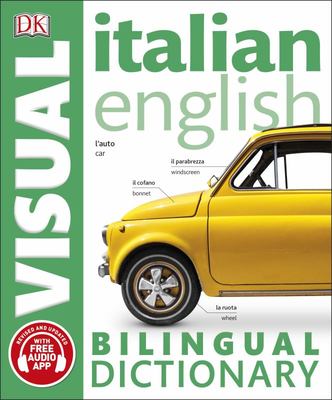 $22.99
AUD
Category: Language | Series: DK Bilingual Dictionaries Ser.
The Italian English Bilingual Visual Dictionaryis your essential vocabulary guide to the world around you. With over 10,000 fully illustrated terms arranged by theme, language learning has never been easier. Perfect for tourist and business travellers alike, DK's Bilingual Visual Dictionary series is b y your side when buying food, talking about work, discussing health, and studying language. Stunning visuals and comprehensive indexes combine to make the Italian English Bilingual Visual Dictionary your indispensable Italian language companion. Fully updated to reflect recent changes in technology and clothing, theItalian English Bilingual Visual Dictionaryalso features an easy-to-use audio app, enabling you to hear terms spoken out loud. Learn and retain all the key phrases you need to know, and perfect your pronunciation with audio help. ...Show more
$6.99
AUD
Category: Language | Series: Phrasebook Ser.
Lonely Planet: The world's number one travel guide publisher* You can get by in Italy's major cities without speaking Italian, but just a few phrases will go a long way in making friends, inviting service with a smile, and ensuring a rich and rewarding travel experience - you could experience a delicio us meal at a no-menu trattoria, find a hidden art gallery off the tourist trail, or discover the best cappuccino in Rome. Essential phrases to meet all your travel needs How to get local recommendations Easy-to-use pronunciation guides Expert tips to boost your confidence   About Lonely Planet: Lonely Planet is a leading travel media company and the world's number one travel guidebook brand, providing both inspiring and trustworthy information for every kind of traveller since 1973. Over the past four decades, we've printed over 145 million guidebooks and grown a dedicated, passionate global community of travellers. You'll also find our content online, and in mobile apps, video, 14 languages, nine international magazines, armchair and lifestyle books, ebooks, and more. 'Lonely Planet guides are, quite simply, like no other.' - New York Times 'Lonely Planet. It's on everyone's bookshelves; it's in every traveller's hands. It's on mobile phones. It's on the Internet. It's everywhere, and it's telling entire generations of people how to travel the world.' - Fairfax Media (Australia) *Source: Nielsen BookScan: Australia, UK, USA, 5/2016-4/2017 ...Show more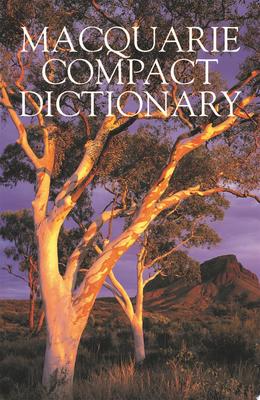 $29.99
AUD
Category: Dictionaries & Thersauruses
The Macquarie Compact Dictionary is based on the complete Macquarie Dictionary Eighth Edition. It is an up-to-date record of the core of Australian English, in a convenient format.The Macquarie Compact Dictionary features:- more than 50,000 words and phrases- up-to-date entries such as cancel culture, d eepfake, eco-anxiety, hygge, influencer, Me Too, ngangkari, single-use, social distancing- pronunciations in the International Phonetic Alphabet- idiomatic phrases- illustrative phrases showing how a word is used in context- free six-month subscription to Macquarie Dictionary Online ...Show more
$22.99
AUD
Category: Language
Damien Cave: (New York Times bureau chief in Sydney & friend of Bookoccino) "Not many books about writing manage to be both as practical and entertaining as this one. Even if you've never read a Stephen King novel, the insights he shares will change how you read and write (and maybe how you live)."   Immensely helpful and illuminating to any aspiring writer, Stephen King's critically lauded, classic bestseller shares the experiences, habits, and convictions that have shaped him and his work.   "Long live the King" hailed Entertainment Weekly upon publication of Stephen King's On Writing. Part memoir, part master class by one of the bestselling authors of all time, this superb volume is a revealing and practical view of the writer's craft, comprising the basic tools of the trade every writer must have. King's advice is grounded in his vivid memories from childhood through his emergence as a writer, from his struggling early career to his widely reported, near-fatal accident in 1999--and how the inextricable link between writing and living spurred his recovery. Brilliantly structured, friendly and inspiring, On Writing will empower and entertain everyone who reads it--fans, writers, and anyone who loves a great story well told. ...Show more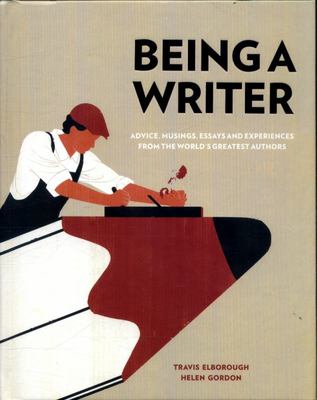 $29.99
AUD
Category: Reference
The joys and challenges of being a writer are explored in this inspiring assemblage of wit, wisdom and hard-won practical advice from some of the world's greatest authors musing on the art of writing and how they came to define themselves as writers. From Samuel Johnson in eighteenth-century London to L orrie Moore in twenty-first-century Wisconsin, the contributors range from the canon to contemporary, covering more than 250 years, and come from all over the world. Beautifully illustrated throughout, this stunning anthology explores and illuminates the pleasures and pitfalls of the compulsion to write, with advice about the whole messy business of writing literature and what it takes to be a writer. The perfect gift for aspiring writers, curious readers, and anyone interested in what the world's greatest authors have to say about the art of writing. ...Show more
$27.99
AUD
Category: Dictionaries & Thersauruses
Roget's Thesaurus ranks as one of the greatest English language reference works, used for generations by anyone looking for help in order to write a letter, prepare a speech, solve a crossword, or write any manner of prose or poem. Its sales now exceed 32 million copies. This edition has been revised a nd updated to include all the latest buzzwords and phrases. In addition this new edition of Roget contains useful panels of additional information that include such nuggets of information as signs of the zodiac and the origins of familiar quotations that have become an integral part of our everyday language. ...Show more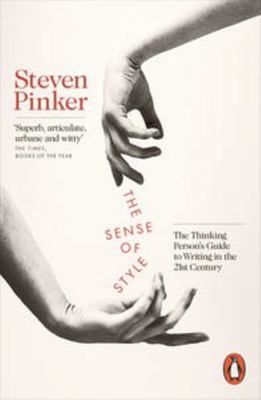 $24.99
AUD
Category: Language
Steven Pinker, the best-selling author of The Language Instinct, deploys his gift for explaining big ideas in The Sense of Style - an entertaining writing guide for the 21st century. What is the secret of good prose? Does writing well even matter in an age of instant communication? Should we care? In th is funny, thoughtful book about the modern art of writing, Steven Pinker shows us why we all need a sense of style. More than ever before, the currency of our social and cultural lives is the written word, from Twitter and texting to blogs, e-readers and old-fashioned books. But most style guides fail to prepare people for the challenges of writing in the 21st century, portraying it as a minefield of grievous errors rather than a form of pleasurable mastery. They fail to deal with an inescapable fact about language: it changes over time, adapted by millions of writers and speakers to their needs. Confusing changes in the world with moral decline, every generation believes the kids today are degrading society and taking language with it. A guide for the new millennium, writes Steven Pinker, has to be different. Drawing on the latest research in linguistics and cognitive science, Steven Pinker replaces the recycled dogma of previous style guides with reason and evidence. This thinking person's guide to good writing shows why style still matters: in communicating effectively, in enhancing the spread of ideas, in earning a reader's trust and, not least, in adding beauty to the world. Eye-opening, mind-expanding and cheerful, The Sense of Style shows that good style is part of what it means to be human. ...Show more
$14.99
AUD
Category: Language | Series: Phrasebook Ser.
Lonely Planet French Phrasebook & Dictionaryis your handy passport to culturally enriching travels with the most relevant and useful French phrases and vocabulary for all your travel needs. Ask about tucked-away vineyards, bargain with local farmers at the market or order wine like a professional; a ll with your trusted travel companion. With language tools in your back pocket, you can truly get to the heart of wherever you go, so begin your journey now! Get More From Your Trip with Easy-to-Find Phrases for Every Travel Situation! Feel at easewith essential tips on culture, manners, idioms and multiple meanings Order with confidence,explain food allergies, and try new foods with the menu decoder Save timeand hassles with vital phrases at your fingertips Never get stuck for wordswith the 3500-word two-way, quick-reference dictionary Be preparedfor both common and emergency travel situations with practical phrases and terminology Meet friendswith conversation starter phrases Get your message across with easy-to-use pronunciation guides Inside Lonely Planet French Phrasebook & Dictionary: Full-colourthroughout User-friendly layoutorganised by travel scenario categories Survival phrasesinside front cover for at-a-glance on-the-fly cues Covers Basics -time, dates, numbers, amounts, pronunciation, reading tips, grammar rules Practical -travel with kids, disabled travellers, sightseeing, business, banking, post office, internet, phones, repairs, bargaining, accommodation, directions, border crossing, transport Social -meeting people, interests, feelings, opinions, going out, romance, culture, activities, weather Safe Travel - emergencies, police, doctor, chemist, dentist, symptoms, conditions Food -ordering, at the market, at the bar, dishes, ingredients The Perfect Choice: Lonely Planet French Phrasebook & Dictionary,a pocket-sized comprehensive language guide, provides on-the-go language assistance; great for language students and travellers looking to interact with locals and immerse themselves in local culture. About Lonely Planet: Started in 1973, Lonely Planet is the world's leading travel guide publisher with guidebooks to every destination on the planet, and has been connecting travellers and locals for over 25 years with phrasebooks for 120 languages, more than any other publisher! With an award-winning website, a suite of mobile and digital travel products, and a dedicated traveller community, Lonely Planet enables curious travellers to experience the world and to truly get to the heart of the places they find themselves. ...Show more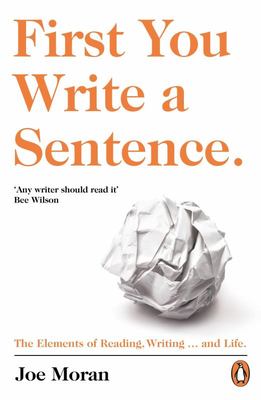 $22.99
AUD
Category: Reference
The sentence is the common ground where every writer walks. A poet writes in sentences, but so does the unsung author who came up with Items trapped in doors cause delays. A good sentence can be written (and read) by anyone if we simply give it the gift of our time. Enter widely-acclaimed author Profes sor Joe Moran. Using minimal technical terms, First You Write a Sentence is his unpedantic but authoritative explanation of how the most ordinary words can be turned into verbal constellations of extraordinary grace. Using sources ranging from the Bible and Shakespeare to George Orwell and Maggie Nelson, and scientific studies of what can best fire the reader's mind, he shows how we can all write in a way that is clear, compelling and alive. Along the way he reveals how good writing can help us notice the world, make ourselves known to others and live more meaningful lives. It's an elegant gem in praise of the English sentence. ...Show more