$32.99
AUD
Category: Cricket
 Some are born great, some achieve greatness, and some have greatness thrust upon them by virtue of their skills with ball and bat. This book is about the latter. Australia's favourite sport has a proud history of turning nobodies into somebodies and ordinary men and women into heroes of international r enown. From the black-and-white belligerence of Ian Chappell to the colourful celebrity of Shane Warne, the diplomacy of Adam Gilchrist to the ruthlessness of Meg Lanning, the pantheon of Australia's greatest cricketers is as mottled as the crowds that cheer them on. But who is the greatest of them all? In The 50 Greatest Australian Cricketers, sports journalist and comedy writer Dan Liebke charts the careers, characteristics and enduring legacies of the finest Australian cricket players of the past 50 years.  ...Show more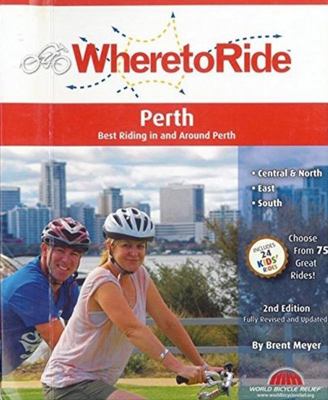 $34.99
AUD
Category: Bicycles | Series: Where to Ride Ser.
Designed for maximum utility on the go, the book uses a gloss paper stock, tough enough to cope with the rigours of sweaty hands and plenty of use out on the trail. Riders will appreciate the sturdy construction and convenient spiral binding of the book, this includes a fold out overview map of all ride s that doubles as a book marker with map legend, ride ratings and terrain guide. Riders can refer between the map they are using and reference information with ease. Whats new in this edition: 8 new adult rides 24 kids rides Family-friendly ratings Extensive enhancements to mapping Region overview maps Detailed terrain classifications Where to Ride Perth will inspire you to get out and ride. ...Show more
$32.99
AUD
Category: Football/Rugby
Footy legend Kevin Sheedy crosses team alliances to profile the 21 most iconic Aussie Rules players and coaches of his lifetime. He also sits down for interviews with nine icons he has long admired and who don't normally (for various reasons) have their stories told. Packed full of wisdom and wit, insig ht and memories, Icons of Footy is a treasure-trove for football fans of all tribes and ages, from one of the most unique and colourful characters in Australian sport. This beautifully-packaged paperback includes: Gary Ablett Senior, Allen Aylett, Ron Barassi, Kevin Bartlett, Malcolm Blight, Barry Cable, Wayne Carey, Alastair Clarkson, Jason Dunstall, Graham Farmer, Lance Franklin, Adam Goodes, Royce Hart, Francis Hughes, James Hird, Alex Jesaulenko, Leigh Matthews, Kevin Murray, John Nicholls, Barrie Robran, Michael Tuck. ...Show more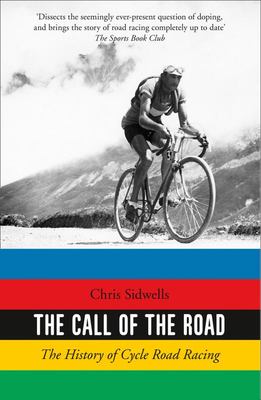 $24.99
AUD
Category: Bicycles
Eddy Merckx. Fausto Coppi. Jacques Anquetil. Bernard Hinault. Beryl Burton. Marianne Vos.A sole cyclist battling over a pass high in the mountains is one of the most romantic of sporting images. In the past 150 years road cycling has been dominated by a series of iconic people who have redefined enduran ce and fortitude. Every decade has pushed human limits, until limits were extended by inhuman pharmacology. And these battles have not been fought over just one race, but an annual series beginning with the Spring Classics and then culminating in the three great tours - the Giro d'Italia, Vuelta d'Espagne and the Tour de France - before the cyclists retire to lick their wounds and start on another winter of training.The Call of the Road is the definitive story of cycle road racing, from the first race in 1868 to the present day. It is a story that has never been told as the professionals experience it - as a whole energy-sapping year. It looks at the beginning and development of the sport, it explains the tactics and looks at the different physical types that succeed. It explains why some nations have dominated this sport and why, until recently, British riders have underperformed. It also looks at the way the great races were founded and developed, and how the great riders stamped their authority on them through the ages.Sidwells doesn't shy away from controversy: dissecting the vexed and seemingly ever-present question of doping. The final chapter brings the story of road racing completely up to date with insight into jiffy bags and salbutamol levels.Truly international in scope, looking at road racing in North and Latin America, Australia, Africa and Asia, as well as continental Europe, The Call of the Road is essential reading for anyone who is interested in the history, tactics or personalities of cycle road racing. ...Show more
$32.99
AUD
Category: Sport & Hobbies
The inspirational story of the past, present and future of Australian women's football - its players, fans, and the game they love.Australian women's football rides high on the sporting landscape now, but this book shows that success has been one-hundred years in the making. It shares stories of triumph in the face of overwhelming odds, and tales of heartbreak and obstacles that seem insurmountable. But it is also about community, endurance and collective success.Eye-opening and celebratory, it tells the story of amateur women kicking a ball around a century ago to Australia's national team being one of the best in the world. The Matildas are forty years old and no longer have to wear hand-me-down men's kits, pay for their own medical insurance and do it all for love not money. But there have been no free kicks along the way as they have faced prejudice and even outright hostility.Never Say Die takes in dusty archives, rainy pitch-side evenings and heart-breaking and heart-warming interviews -- including with FIFA and FFA board members, Matildas past and present, W-League coaches and players, state and club administrators. But at its heart are fans from every level of the game who could not love it more. ...Show more
$29.99
AUD
Category: Sport & Hobbies | Series: Epic Ser.
With stories of 50 incredible hiking routes in 30 countries, from New Zealand to Peru, plus a further 150 suggestions, Lonely Planet's Epic Hikes of the World will inspire a lifetime of adventure on foot. From one-day jaunts and urban trails to month-long thru-hikes, cultural rambles and mountain expedi tions, each journey shares one defining feature: being truly epic. In this follow-up to Epic Bike Rides and Epic Drives, we share our adventures on the world's best treks and trails. Epic Hikes is organised by continent, with each route brought to life by a first-person account, beautiful photographs and charming illustrated maps. Additionally, each hike includes trip planning advice on how to get there, where to stay, what to pack and where to eat, as well as recommendations for three similar hikes in other regions of the world. Hikes featured include: Africa & the Middle East: Cape Town's Three Peaks (South Africa) Kilimanjaro (Tanzania) Camp to Camp in South Luangwa National Park (Zambia) Americas: Angel's Landing, Zion National Park (USA) Skyline Trail, Jasper National Park (Canada) Concepci 3n volcano hike (Nicaragua) Asia: 88 Sacred Temples of Shikoku Pilgrimage (Japan) Markha Valley (India) Gubeikou to Jinshanling on the Great Wall (China) Europe: Wordsworth's Backyard: Dove Cottage and around Rydal and Grasmere (UK) Alpine Pass Route (Switzerland) Camino de Santiago (Spain) Oceania: Sydney's Seven Bridges Walk (Australia) The Routeburn Track (New Zealand) Kokoda Track (Papua New Guinea) About Lonely Planet: Lonely Planet is a leading travel media company, providing both inspiring and trustworthy information for every kind of traveller since 1973. Over the past four decades, we've printed over 145 million guidebooks and grown a dedicated, passionate global community of travellers. You'll also find our content online, on mobile, videos and in 14 languages, armchair and lifestyle books, ebooks, and more.   ...Show more
$24.99
AUD
Category: Running, Fitness & Extreme Sports | Reading Level: good
Full of incredible characters, amazing athletic achievements, cutting-edge science, and, most of all, pure inspiration, Born to Run is an epic adventure that began with one simple question: Why does my foot hurt? In search of an answer, Christopher McDougall sets off to find a tribe of the world's great est distance runners and learn their secrets, and in the process shows us that everything we thought we knew about running is wrong. Isolated by the most savage terrain in North America, the reclusive Tarahumara Indians of Mexico's deadly Copper Canyons are custodians of a lost art. For centuries they have practiced techniques that allow them to run hundreds of miles without rest and chase down anything from a deer to an Olympic marathoner while enjoying every mile of it. Their superhuman talent is matched by uncanny health and serenity, leaving the Tarahumara immune to the diseases and strife that plague modern existence. With the help of Caballo Blanco, a mysterious loner who lives among the tribe, the author was able not only to uncover the secrets of the Tarahumara but also to find his own inner ultra-athlete, as he trained for the challenge of a lifetime: a fifty-mile race through the heart of Tarahumara country pitting the tribe against an odd band of Americans, including a star ultramarathoner, a beautiful young surfer, and a barefoot wonder. With a sharp wit and wild exuberance, McDougall takes us from the high-tech science labs at Harvard to the sun-baked valleys and freezing peaks across North America, where ever-growing numbers of ultrarunners are pushing their bodies to the limit, and, finally, to the climactic race in the Copper Canyons. Born to Run is that rare book that will not only engage your mind but inspire your body when you realize that the secret to happiness is right at your feet, and that you, indeed all of us, were born to run. From the Hardcover edition. ...Show more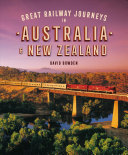 $39.99
AUD
Category: Transportation
  35 trips that highlight some of the most interesting, scenic and rewarding railway journeys in Australia and New Zealand. They include the renowned long-distance journeys, such as The Indian Pacific in Australia that takes travellers on a three-day trip from Perth to Sydney or the The Northern Explor er in New Zealand's North Island that stretches from Wellington to Auckland, as well as those that traverse stunning scenery, such as New Zealand's TranzAlpine train or the Spirit of the Outback in Australia. There are also routes on which restored steam locomotives operate and other lines included for the wonder of their engineering.   Trains are a great way to travel in these countries, taking you at ground level past superb scenery that often cannot be seen by any other means of transport. David Bowden's entertaining text describes the route, the major features of interest along the way and any special technical details about the locomotive or the track.   ...Show more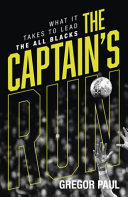 $34.99
AUD
Category: Football/Rugby | Reading Level: near fine
How the captains of the last 50 years have gone about leading the world's most successful rugby team. The job of All Blacks captain comes with a scrutiny that puts it alongside the prime minister in terms of profile and public expectation. It takes a strong, confident and assured personality to captain a team where failure is never tolerated. The Captain's Run is a behind the scenes journey into the world of All Blacks captaincy. It reveals how the great captains dealt with the pressure of the toughest job in world rugby, how they coped with failure, and what they would have done differently, if given their time again. ...Show more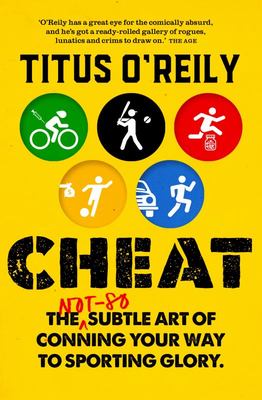 $34.99
AUD
Category: Sport & Hobbies
Where there's sport, there's cheating. No sport is immune; athletics, swimming, rugby, American Football, cricket, baseball, badminton, motorsports, tennis and curling. Yes, even that sport on the ice with brooms. Almost as soon as humans started playing sport competitively, they started to cheat. They cheated to win, for the fame, for the money and sometimes for reasons that are hard to understand. From the fiendishly clever to the outright hare brained, the borderline to the blatant, Titus O'Reily takes us through the many and varied ways athletes and countries have tried to cheat over the years. There's the winner of the New York marathon who was driven in a car part of the way, the male basketballer whose drug test revealed he was pregnant, the Tour De France where many of the riders took the train, the Spanish Paralympic basketball team who faked being intellectually disabled to win gold at the 2000 Paralympics. As well as sharing an alarming amount of tales involving swapping bodily fluids, Titus takes you through doping, illegal equipment, bribes, playing dirty, faking injuries, wearing disguises, dodgy referees, ball tampering, eye gouging, itching powder, licking an opponent to distract them and sending a dwarf out to bat to shrink the strike zone. Just as sport has become more sophisticated, so has cheating in sport, from state backed doping programs to tiny motors in Tour De France bikes. What does this say about us, that we cheat with such regularity and creativity? Will technology help stop cheating or will it only make it worse? Mastering the not-so-subtle art of cheating is a hilarious trip through the history of cheating in sport, and a handy how-to-guide for the professional athlete in your family.       ...Show more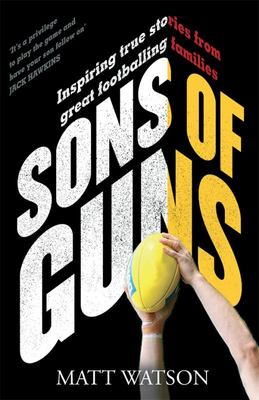 $34.99
AUD
Category: Football/Rugby
When the AFL's father-son rule was introduced in the 1940s, it gave emerging players the chance to live out the ultimate lifelong dream- to play for the same beloved club as their fathers. This is about as sentimental as football gets. Today some of the AFL's finest players are the sons of guns - legend s like Mitchell, Ablett, Watson, Shaw, Fletcher, Kennedy, Hawkins, to name just a few - and many of them have given frank and candid interviews for this book. Sons of Guns takes us inside a number of these famous footballing families - the successes, failures and incidents that have never before been made public. The fathers confide doubts about whether their sons would ever make it, and the incredible pride when they did, while the sons describe overcoming the burden of their surname to forge their own identity. This is an insightful and hugely inspiring book about generations of men in the same family who shared the dedication, courage, toughness and desire it takes to succeed at the ultimate level. ...Show more
$45.00
AUD
Category: Golf
Lofted puts a new spin on the widely played and loved game of golf--traversing the world in search of authentic golfing experiences.   A visual adventure for the modern golfer, Lofted will transport you far and wide through the world of golf. Lofted takes you on a journey of discovery with stunning pho tography and words featuring golf experiences across the globe, including classic courses in Wisconsin, the remote islands of Scotland's Outer Hebrides, a magical Malaysian course in a tropical paradise, the foothills of the Himalayas and the windswept King Island in the Bass Strait off the coast of Australia.   From the design of the bunkers and doglegged tees to the art of mindfulness in the great outdoors--the unexpected stories and images in Lofted will challenge your perceptions of golf.   ...Show more